(Last Updated On: December 13, 2022)
In many of our previous articles written about Business Continuity solutions, we mention the word "virtualization". To give a brief explanation of where this key word comes in, it's important to describe the process of a Business Continuity solution in action. Let's take a look at the QBR solution's backup process:
An initial snapshot of the company's Windows server and workstation will be taken by the QBR device. This will then be converted to a "virtual machine" and stored on the QBR device.
Depending on the retention plan, the QBR device will then begin to take snapshots of the changes on that server on a periodic basis and once again turned into virtual machines (VM).
At this point, these VM snapshots will be synchronized off-site in the "cloud" for additional security.
QBR's restoration process is quite simple as it utilizes the efficiency and simplicity of the virtual machine snapshots. Three options are available to restore your data:
File Restore = restores files from a specific VM, taken at a specific time
Bare Metal = restores complete VM sitting on the local device into a physical machine
Export VM = restores the backup sitting on the device to VMware format, to be deployed on a virtual environment.
Now that we know how a Business Continuity solution, like QBR, works, we can clearly see the relevance of "virtualization". Therefore, what exactly does it mean?
In simple terms, virtualization refers to the creation of a virtual version of something. This could be a virtual operating system, network, server, storage device, etc. When speaking more specifically about virtualization in Business Continuity, it is when the device takes "snapshots" of the Windows server and converts it to a virtual machine, which will then be stored on the device itself or be sent off-site to the Cloud.
A snapshot is the state of the virtual machine at a certain point in time. Therefore, when and if a business encounters a disaster, they can turn on and access any virtual machine (VM) snapshot and continue working from that specific point in time, with little or no downtime.
Do you have more questions? Click below to receive our FREE Brochure on our Business Continuity solution, QBR!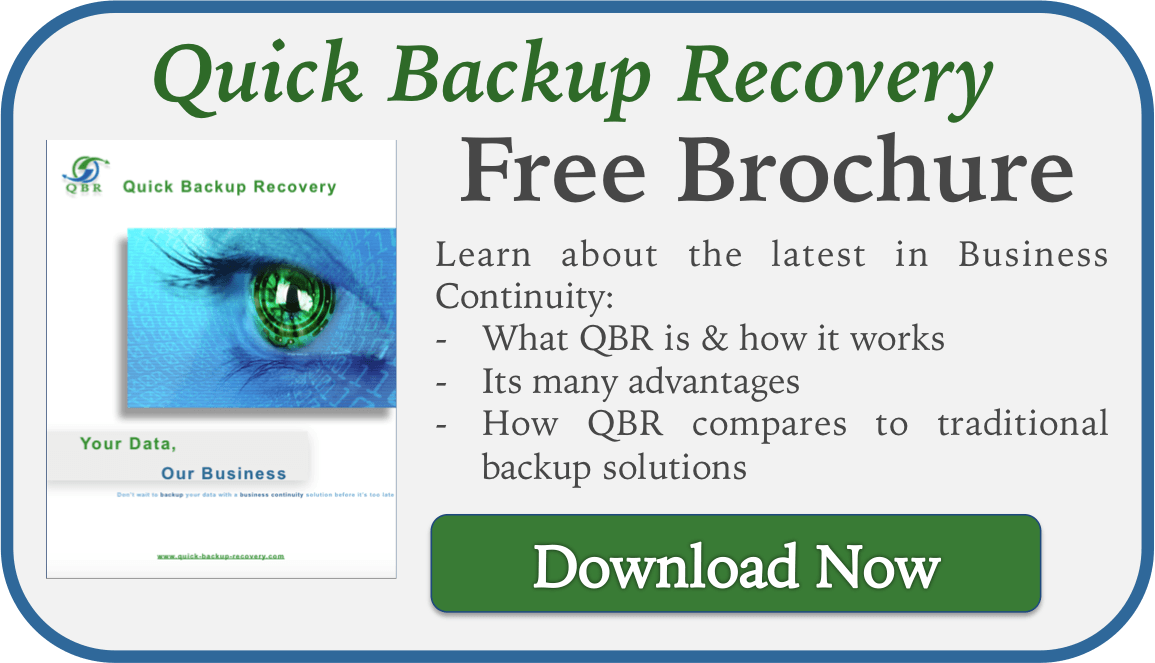 https://www.namtek.ca/wp-content/uploads/2016/10/QBR-image-300x300.png
300
300
Tatyana Vandich
http://namtek.ca/wp-content/uploads/2022/10/LOGO-NAMTEK-Home_page.png
Tatyana Vandich
2015-03-04 13:05:08
2022-12-13 13:55:16
What is Virtualization?