WMS Checklist: 5 Top Qualities To Look For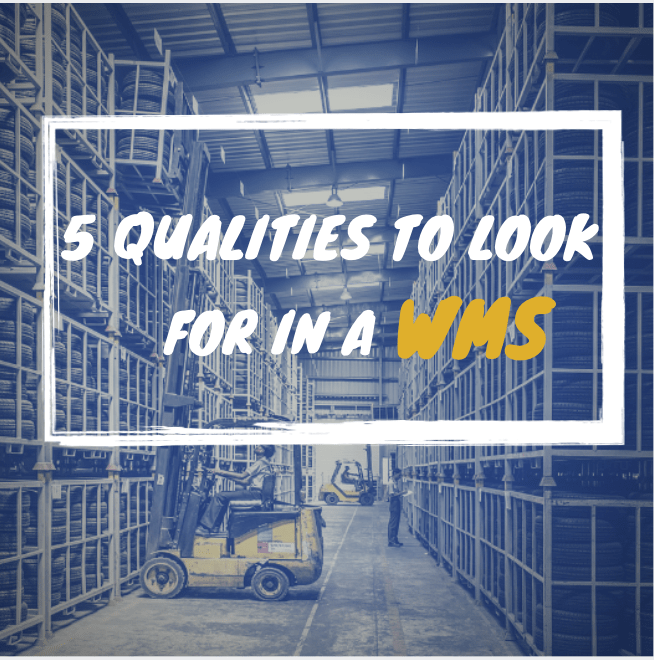 (Last Updated On: August 10, 2023)
Till this day, our IT experts are still walking into distribution centers or warehouses and witnessing employees using pen and paper to manage and track inventory. Many companies get too used to working a certain way that upgrading to a Warehouse Management System seems daunting and costly. One thing for sure is, a system like that is well worth it and has the power to streamline processes, increase overall efficiency and reduce costs, believe it or not.
For more on this topic, read 'Does inventory affect a business' bottom line?'
According to the Aberdeen Group (2007), they found that the best performing warehouses/distribution centers shared these 5 characteristics:
Order picking with mobile devices
Bin-level location management
Paperless receiving of goods
Real-time put-away
Cycle counting
In order to be efficient and have the above characteristics, a mobile Warehouse Management System is required. Here are 5 qualities to look for when shopping for a WMS:
WMS Vendor is committed to Warehousing
It's important to see that the software vendor is focused and committed on warehousing. You don't want this system to be just a side project of theirs in which they haven't upgraded or improved since development. Is the vendor continuously upgrading their WMS according to industry standards or customer feedback? You definitely want the answer to that question to be YES!
Easy to Use
Nobody wants a system that is way too difficult to use. All business software does require user training but when systems are just too complicated to understand and use, then there is no point. Speak to current users of the WMS to learn how they first found the system to be.
Flexibility
One quality to always look for in ANY software system is its flexibility. Never go with a system that is not upgradeable and flexible enough to handle new business or industry requirements.
Can completely manage all warehouse transactions (full functionality)
You want a system that will streamline your business processes and provide maximum functionality. You are trying to eliminate the manual work of your employees in the Warehouse (no more papers all over the place to track goods!). Some of its features should include:
Remote scan all bar-coded items & track shipments
Track and manage the locations and receiving elements of merchandise
Track several warehouses
Manage and track the output of your employees
All of which should be in REAL-TIME!
Can integrate into your Business Management System (or ERP solution)
No Company should still be implementing separate software systems that do not communicate with each other. This does not mean that you need to buy all your management systems from the same Provider, but the systems you do choose to go with, that meet your business requirements and budget, should be able to integrate easily with each other. Having your Warehouse Management system integrate into your ERP or Accounting systems, is so beneficial and can increase data visibility, efficiency and streamline processes.
https://www.namtek.ca/wp-content/uploads/2016/10/WMS-checklist.png
660
654
Tatyana Vandich
http://namtek.ca/wp-content/uploads/2022/10/LOGO-NAMTEK-Home_page.png
Tatyana Vandich
2015-10-14 18:50:00
2023-08-10 21:30:30
WMS Checklist: 5 Top Qualities To Look For