SME Software Package: IT Solutions for a Well-Equipped Team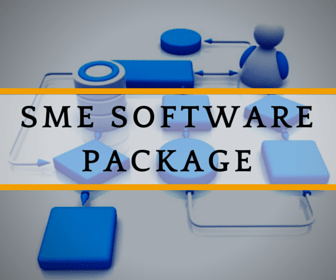 (Last Updated On: September 11, 2023)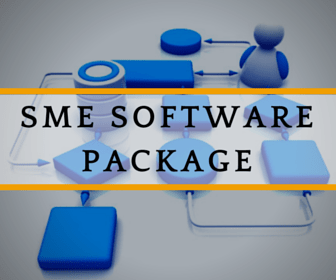 In today's business world, many Small & Medium Enterprises are equipping their team with the very best in order to fuel growth, easily overcome challenges or changes in the industry, maximize transparency and go head-to-head with their much larger competitors. Sometimes, a small business can have the best, most dedicated, hardworking team but the worst software systems. This team won't be able to perform to their full potential. They'll most likely feel frustrated at the roadblocks they face due to their office technology, where errors and miscommunication tend to arise. Your team should be working with the best IT business solutions to maximize efficiency and to build a solid foundation for success and growth. Here's how to do it
Automate & integrate your business processes with a fully integrated Management Software Solution (ERP) for Small & Medium Enterprises
An Enterprise Resource Planning (ERP) solution allows employees to view, manage and track core business processes and resources using ONE database. All data is stored safely in one place, no matter an employee's physical location or department. Users are able to track all processes and view data all in real-time. This system should be the foundation of your company's IT infrastructure. One single data warehouse will improve efficiency by increasing the accuracy of your data, reducing manual data entry, increasing organizational transparency, etc.
Check out this blog on choosing an ERP software solution.
Gain insights into your business & improve decision-making with an interactive, flexible Business Intelligence solution
We are huge fans of Business Intelligence & Analytics tools here at NAMTEK. We not only mention this tool to all our customers who are thinking about implementing an ERP solution but we HIGHLY recommend it. We don't think a business can perform to its full potential without properly analyzing the huge amounts of data that comes in on a regular basis. A Business Intelligence solution allows business people to create visualizations; reports and dashboards to better understand their data visually.
Read why our customers love their BI solution here.
Improve partner relationships and communication with integrated EDI translation software
EDI communication is becoming extremely popular amongst SMEs in recent years. Not only are large retailers demanding their suppliers use EDI in order to do business together but companies (of all sizes) are slowly but surely realizing the many benefits of using an EDI communication service with their Trading Partners. Our team has simplified EDI with a translation software tool called EDI2XML. Basically what this translation service does is it can easily and automatically convert any incoming EDI file format into an XML/CSV/TXT format and vice versa for outgoing documents. This solution can be integrated into any software application.
Check out our EDI blogs here to learn more.
Track inventory with a mobile Warehouse Management System
A WMS can easily and efficiently:
Provide real-time inventory status
Remote scan all bar-coded items
Track merchandise and shipments
Manage multiple warehouses
And much more
This system is used by manufacturing companies to better manage their warehouses by integrating all this data into their ERP management software solution.
Stay connected while on-the-go with Mobile Business Applications
Mobile business applications allow business people to access their management system on any mobile device (smartphone, tablet) to gain on productivity. These apps are great for management teams, sales reps who work on the road, or any team that works on a customer's site.
Sell directly online with an integrated eCommerce Store
More and more we are noticing business closing due to low sales and high rent. Brick and mortar stores are slowly being replaced by eCommerce Stores that have a fraction of their costs (no rent, no utility bills, etc). On top of this, eStores allow consumers to shop at any hour of the day from the comfort of their own home. Online selling has truly changed the way consumers browse and shop for products and services.
Protect your data with a Business Continuity Solution
This solution often gets overlooked since many business people believe their backup tapes and drives are good enough to protect their sensitive company data from disasters. Unfortunately this isn't the case as tapes and drives have a high chance of getting damaged or lost at any given moment. Other crises can also occur such as other hardware failures, security breaches, software errors, natural disasters or even human errors. These possibilities can occur at any time. It's best to be well prepared with today's latest hybrid backup and restore technology – a Business Continuity Solution.
Read more about Business Continuity here.
Of course, this may seem like a lot at first but it doesn't mean you need to implement all of these solutions at once. They can easily be implemented in stages (from high priority to low priority) or see if your Service Provider can offer a great package deal for the full integrated solution. It's time to equip your team with the best solutions needed to fuel growth and maximize efficiency.
Contact us to learn more about our Software Solutions for SMEs.
https://www.namtek.ca/wp-content/uploads/2016/10/software-package-blog.png
280
336
Tatyana Vandich
http://namtek.ca/wp-content/uploads/2022/10/LOGO-NAMTEK-Home_page.png
Tatyana Vandich
2015-08-05 14:33:00
2023-09-11 18:27:23
SME Software Package: IT Solutions for a Well-Equipped Team