How to solve EDI integration challenges with Oracle's JD Edwards
(Last Updated On: August 10, 2023)
JD Edwards, or JDE, is an Enterprise Resource Planning (ERP) system by Oracle. There are currently two editions, JDE Enterprise One or JD Edwards World. In many ways, this ERP solution is great for corporate-level enterprises, as it offers many tools and connectors for data integration. One key challenge, however, that companies using a JDE system, no matter its edition, are faced with is the lack of ease for EDI integration within the system. Currently, there is no out-of-the-box integrated EDI solution or connector that would make this process easy, quick and seamless.
Our team has encountered many companies struggling with this inefficiency. As we are not JDE experts, but instead EDI integration experts, we've teamed up with our partners at Magic Software Enterprises, who have worked in the JDE world for many years. By leveraging our combined expertise, teamwork and solutions (which will be mentioned below), JDE users can have an EDI integration project that is efficient, successful and within budget.
Therefore, how do we help companies overcome common EDI challenges with their JD Edwards system? By using our popular EDI2XML services, along with Magic Software's powerful business integration platform called Magic xpi & certified JDE adaptor.
EDI2XML
Our team of EDI experts handle the entire EDI portion of the project, where we convert all EDI X12 or EDIFACT documents into the desired format that is requested by the client, such as flat file, XML, CSV, etc. For outgoing files, EDI2XML works by converting the XML / CSV file into the EDI format, requested by the Trading Partner. We take care of all EDI mapping, Trading Partner configuration, XML/CSV/flat file translations, and back and forth transactions with Trading Partners. Visit us at http://www.edi2xml.com
---
Read: The Definitive Checklist For Oracle JDE and EDI Integration Projects
---
Magic xpi for JDE
Magic Software's xpi platform is an 'Oracle Validated Integration' solution that can be used to orchestrate the entire business process, no matter if you are using JD Edwards Enterprise One or JD Edwards World. It comes with a ton of built-in components to build workflows and streamline an entire business flow;
Database Gateways to connect with common databases, such as SQL Server, Oracle, DB2, Pervasive, MySQL, ODBC, etc.
Connectors that allow users to directly connect to JDE, SAP, Dynamics, Salesforce, etc.
Triggers & Data Mappers to monitor folders and to map from one file format to another.
Connectivity & Messaging through FTP, SOAP, MSMQ, etc.
Therefore, if an incoming EDI document is received by a company, our EDI2XML service will convert this file into the client's desired format (let's say XML), then using Magic xpi, will be mapped to JDE by;
Creating a step with a Data Mapper
Source: XML based on the EDI2XML .xsd (schema file)
Destination: the JDE table to feed from the XML format
Once the source and destination are defined, the user can use his or her mouse to drag and drop to map fields from the source to the destination (JDE table).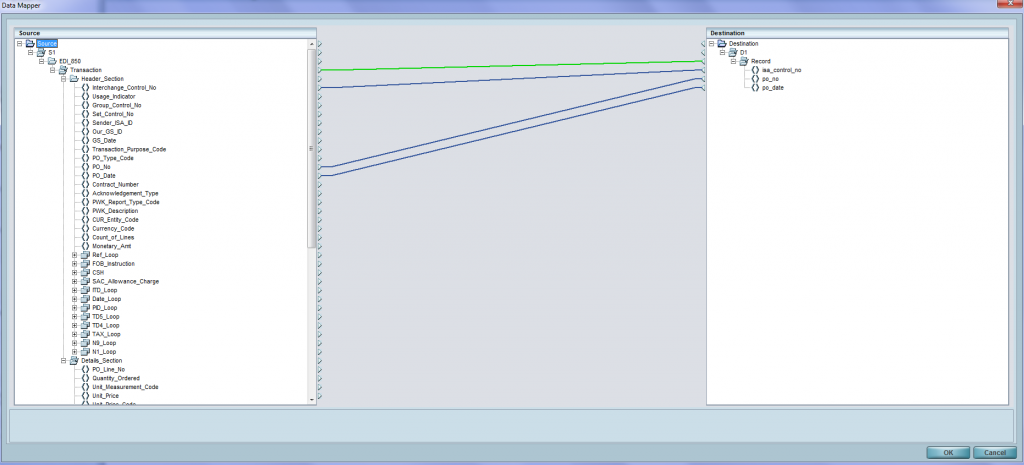 In this day and age, EDI integration within management systems should be seamless but for many it is not. This is can cause major headaches for managers. Companies no longer want to hire in-house EDI experts when they already have a full team of in-house JDE developers. It's about time JDE users can rely on an outsourced EDI Integration Partner that will ensure their daily EDI transactions are processed and streamlined, without difficulties.
Call us today  +1 450-681-3009  to learn more about our EDI2XML Service and JDE Integration capabilities with our Magic Software partner.
http://namtek.ca/wp-content/uploads/2022/10/LOGO-NAMTEK-Home_page.png
0
0
Tatyana Vandich
http://namtek.ca/wp-content/uploads/2022/10/LOGO-NAMTEK-Home_page.png
Tatyana Vandich
2017-03-31 17:20:09
2023-08-10 17:53:12
How to solve EDI integration challenges with Oracle's JD Edwards