The Perfect App for your Mobile Workforce
(Last Updated On: September 18, 2023)
What better way to improve overall business efficiency than to equip your field workers with a mobile business application that they can access from their personal mobile devices, on Android or Apple operating systems. This will allow for better visibility into their projects, all in real-time. By getting rid of all of this paperwork, fieldwork can be done much more efficiently and customer requests can be handled and completed much more quickly.
Apps for Businesses
It's no surprise that the mobile workforce is increasing. Employees are choosing to work from their tablets or smartphones from any location, either from home, on the road (sales reps), or on-site (contractors, inspectors, construction workers, etc.). Mobile business apps will help with this change. By extending sections of your ERP system on your employee's mobile devices, they can input, send and receive real-time data at anytime from anywhere. Sales reps will be able to input customer information and orders right into their tablets or smartphones and it'll be visible at Head Office (main database) that very second. This means orders will be processed much more quickly, leaving your customers satisfied. Mobile business applications can also:
capture signatures
send messages
track and manage field projects
collaborate with colleagues on group projects/tasks
view, input and receive customer information
view real-time inventory levels of products
Online vs. Offline Mobile Applications
Of course, this application can either be online or offline. An online mobile application requires connectivity to the Internet. Without Internet connection, an employee won't be able to read and write data to the main database.
An offline business app does not require an Internet connection at all times. It runs on a mobile platform where the user can input data in the app at any time and then once the mobile device gets connected to the Internet, this stored data will automatically be sent to the main database. Depending on the project requirements, you can choose between these two kinds of applications.
Mobility to the Rescue!
Improved visibility into real-time data and the elimination of paperwork can make all the difference in the world when it comes to order fulfillments, customer satisfaction, data accuracy and overall efficiency. Equip your field workers with the right tools to get the job done faster and efficiently. We can help – contact us today!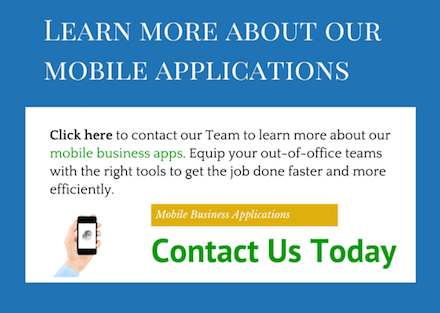 https://www.namtek.ca/wp-content/uploads/2016/10/phone-288159_640-300x300.jpg
300
300
Tatyana Vandich
http://namtek.ca/wp-content/uploads/2022/10/LOGO-NAMTEK-Home_page.png
Tatyana Vandich
2015-02-03 10:00:24
2023-09-18 18:41:16
The Perfect App for your Mobile Workforce