QUIZ: Ready for a Software Upgrade?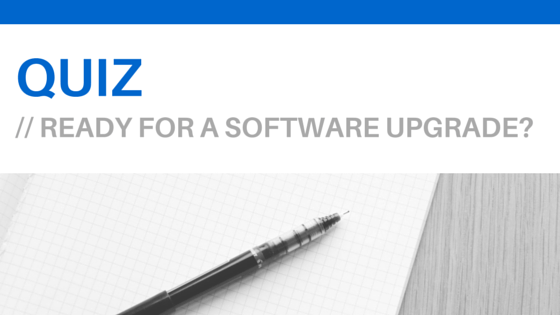 (Last Updated On: September 22, 2023)
Do you keep wondering if NOW is the right time to replace your out-dated legacy system with an upgraded flexible software solution? If this question stays at the front of your mind, it is probably for good reason. Don't dismiss it for years on end just because software implementation seems too complex for your business to handle right now. It's all about finding the right moment and getting well prepared for this change.
To know if you're business is in a good place to begin a software implementation project, like an ERP implementation, take our quiz below.
Quiz: Ready to take the plunge and begin a new software implementation project today?
Is it evident that your team is doing too much manual work?

YES / NO
Do you keep witnessing your team spending more time keying in data throughout the day than actually completing their tasks? Do they rely heavily on paperwork rather than your current management system?
Are you currently in a 'slow' period at work?  

YES / NO
It is never a good idea to begin a software implementation project during a busy period. If you know your 'rush' months are from May to October then it is best to take a couple of months during the winter to set aside for implementation. This is important since you will need a team to plan and manage this project internally and work alongside the IT Service Provider. Also, your team will need to be properly trained on the new software system, which is a good idea when they are not swamped with tasks and projects.

Has your business just recently gone through some major changes?  

YES / NO
Usually when companies implemented their legacy system it was many years ago. In most cases, many changes to business processes or to the business in general have occurred since then; such as expansion of customer base and/or product range, additional trading partners with additional trading requirements, etc. In these cases, your legacy system won't be able to keep up with your growing business, which is when you'll start seeing your team revert back to more manual work.
Was your last software upgrade 3 years or more?

YES / NO
Sometimes, we get so consumed by our daily tasks and keep pushing any sort of software upgrade back. This can last years. After a certain point, your system will become out-dated and it will be time for a software upgrade. In 'IT' years, 3 years is a long time! Systems typically should be upgraded on a continuous basis as there are always advancements being made in the tech world as well as there are constantly changes to business processes that can affect the system. If you wait too long, there will be disconnect between your system and your business processes; this is when managers begin to see inefficiencies.
Is it becoming a hassle to use multiple systems and databases to manage the company?

YES / NO
It's common for smaller businesses to find themselves using multiple systems for different functions that are not integrated. This can cause communication barriers and difficulties in reporting as there are multiple databases to access. The most efficient way would be to have the entire organization use one single system and one database
Are your managers lacking real-time information and report generation to make accurate decisions?

YES / NO
Real-time information is so crucial for business executives as it allows them to make informed decisions based on what is happening in the moment. Issues can be handled and fixed before they even occur as managers will have access to real-time analytics to better track data and changes and predict trends.
Is your IT strategy properly laid out and aligned with your business' strategy?

YES / NO
If yes, then it is likely the right budget can be made in regards to a new software solution and implementation project. In many cases, because the accounting team does not fully understand IT's role they see it as a cost rather than an investment. This is why the wrong decisions are often made in SMEs and perhaps why software implementation projects are postponed or cancelled due to budget constraints.
If you mostly answered YES to the above questions:
It's time! You should definitely start preparing your team with the new changes and getting an internal team together to manage and plan for the software implementation. This is the time as well to find a Software Provider that can offer your business exactly what it needs to improve overall efficiency and streamline and automate your business processes. This IT team will work hand in hand with your internal team to successfully complete the implementation. Consult with an IT expert beforehand to understand how to best proceed.
If you mostly answered NO to the above questions:
It may not be the right time to upgrade to a new software system. However, if you feel that your company does currently have the budget for a new upgrade and you are in a 'slow' period at work, it may be a good time. Upgrading an old software system BEFORE problems occur is always recommended and the best way to go. Just make sure your team is ready to handle a big change and your accounting team understands IT's role at the company. IT can and usually does have a significant impact on the efficiency of a business which in the long run has the potential to cut costs, improve productivity, increase customer/partner satisfaction, and much more.
Contact us for a free IT consultation before any software upgrade or if you're on the market for updated ERP solutions.
https://www.namtek.ca/wp-content/uploads/2016/10/Quiz_-Software-Upgrade.png
315
560
Tatyana Vandich
http://namtek.ca/wp-content/uploads/2022/10/LOGO-NAMTEK-Home_page.png
Tatyana Vandich
2015-07-07 12:13:39
2023-09-22 14:54:18
QUIZ: Ready for a Software Upgrade?