In today's business world, the right technology can make a world of difference. IT experts are always pushing to install the best hardware, software, IT services and cloud applications to simplify the lives of business people. This year has been another big year for IT advancements and we couldn't be more excited about that. We love seeing businesses leverage technology with the right solutions for them, in order to benefit from efficiencies and cost savings.
Here are our most popular and most requested management software solutions and services.
EDI2XML Translation Service
Year after year, we keep seeing an increase in demand for EDI (Electronic Data Interchange) services. Business executives don't want to hire a full-time in-house EDI specialist anymore to handle their EDI transactions. Nor do they want to hire more customer service reps to manually enter all incoming purchase orders anymore. Many retailers and suppliers are now requiring that any company they do business with must send and receive documents, like Purchase Orders Invoices and Advance Shipping Notices, via EDI.
Companies today are looking not only to implement EDI but to automate this entire process with an outsourced EDI provider. This is why our EDI2XML Translation Service has been one of our most popular services this year. We handle our customers' EDI requirements from A to Z; we convert their incoming EDI documents into their preferred file format, such as XML (and convert their outgoing XML documents into EDI), as well as handle all new Partner and document setups and manage their continuous communication with their Trading Partners. Our service is affordable, our setup phase is quick and our EDI support team is easily accessible and available; making it the perfect EDI service for any business.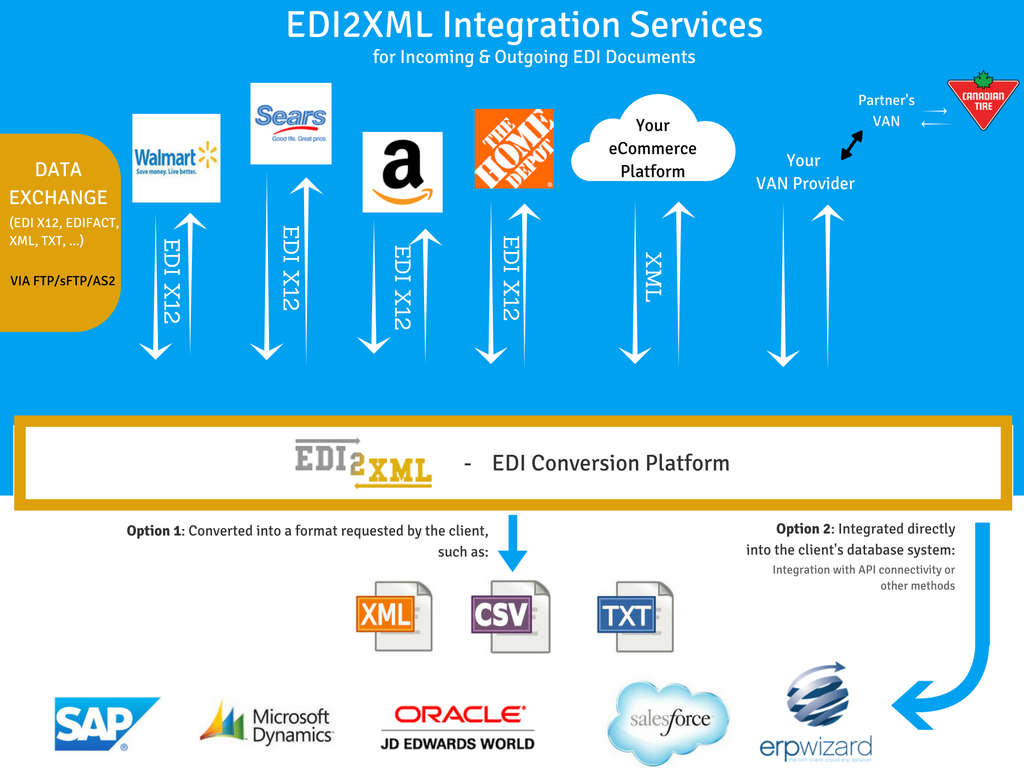 QBR Business Continuity
With ransomware cyberattacks increasing worldwide, it's not unusual for business executives to come running, asking about our QBR solution. Using the latest technology on the market, this Business Continuity & Disaster Recovery solution is THE best way to protect your data from hardware/software failures, human error, natural disasters, ransomware, computer viruses and more.
No matter the disaster, QBR allows you to recover your data quickly and easily. Businesses can no longer afford to incur downtime that lasts days or weeks, only to later realize that their old, dusty backup tapes haven't been working for months! With on-site and off-site virtualization, ransomware detection, advanced screenshot verification emails, infinite cloud retention, unlimited agent licensing, instant recovery of entire servers/workstations and more, a company's data is well protected!

Learn more about QBR here.
Management Software Solutions – The ErpWizard Suite
We are definitely still seeing a demand for complete Enterprise Resource Planning (ERP) systems in the business world. The demand comes from companies that either don't currently use IT systems to manage their business operations, but instead still use Microsoft Office tools like Excel and Word, as well as companies looking to update their outdated, complex, expensive ERP software.
The transition to a simple, modern ERP system, like our homegrown system – The ErpWizard Suite, has allowed companies to increase visibility into their operations, improve data quality, reduce manual data entry, improve customer service and increase productivity. At the end of the day, when a company has found the right ERP system and Software Provider for their business, they can automate and streamline their processes and improve business agility and performance. That's the goal of any ERP system. Unfortunately, not many companies realize these benefits at the end of their software implementation (you'd be surprised how many companies don't even successfully make it to the end of their implementation!).
Technology in the workplace is meant to make business people's lives a whole lot easier, which is why executives are realizing the importance of a helpful, available, and accessible support team, a flexible, easy-to-use system, and affordable IT costs.
ERP system qualities
Here are some of the main qualities of an ERP system that business executives are looking for:
Flexibility
Can easily integrate with other systems
Is effortlessly accessible from anywhere, at any time to allow users to stay in touch with business operations, even while on vacation or on a business trip
Easy to use, with a simple, modern interface
Is continuously updated to accommodate to the ever-changing business environment
Is well supported by an available and accessible IT support team
Is affordable !!
This year we have been especially excited about our newly improved ErpWizard Suite. Now, with its new modern, sleek interface, end users will actually enjoy using an ERP system. It's about time companies moved away from those complex, boring looking, out-dated systems and towards simple, visually appealing management applications, that won't break the bank.
What do you think of ErpWizard's new look?
WIMS 2.0 – Warehouse Management
Warehouse Management is another popular software solution, usually integrated within a company's ERP system. This system allows for better visibility and control of all warehouse activity, which is an absolute must today. A Warehouse Management system allows businesses to know;
What's been delivered and when

Where all items are stored in the warehouse facility

Which items to pick and how much to pick for delivery

The right items to pack using the right shipping cartons and materials

What items to ship and where to ship them
All of this is exceptionally important in order to reduce operating expenditures, increase data accuracy, shorten fulfillment lead times, move inventory faster and increase data accessibility. By using wireless scanners, this inventory data collection system is truly bringing better control and insight into warehouse processes. If a company's warehouse is in order, customers are better served and happy!
Business Intelligence & Analytics
A big favourite among our customers is our Business Intelligence offering. Our Business Intelligence experts are integrating Tableau Software's BI solution into our customer's management system in order to provide detailed analyses with customized drillable dashboards, using all real-time data. Our customers are now able to identify hidden trends and strategic information, turn raw data into visual graphs and tables, identify new business opportunities, spot areas of weakness and avoid problems. The insights that our customers are getting from this Business Intelligence solution is giving them the ability to stay ahead of competition.
Contact us to see how our Business Intelligence experts can help you!
The Best Management Software Solutions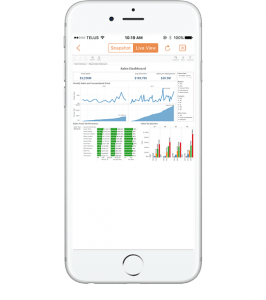 We are certain that demand for these management solutions will only increase, as executives are actively looking to transform their businesses using the latest technologies on the market. We predict that mobile business applications will make this list next year, as business owners are looking to supply their on-site teams with access to their management system to input and review real-time data. Modern, visually appealing, easy to use applications don't just have to be for personal use; companies should be benefiting from these types of applications as well! One thing is for certain; businesses are looking beyond the brand name when it comes to software systems and taking the time to ensure that the Software Provider and offerings are a good fit for their company.
Contact us today to learn more about how we can help YOU.
https://www.namtek.ca/wp-content/uploads/2016/12/ErpWizard-image-e1585862781830.png
391
600
Tatyana Vandich
http://namtek.ca/wp-content/uploads/2022/10/LOGO-NAMTEK-Home_page.png
Tatyana Vandich
2016-12-08 17:48:09
2022-12-13 13:54:51
Our Most Requested Management Software Solutions & Services