Finding the Middle Ground with EDI Software & Services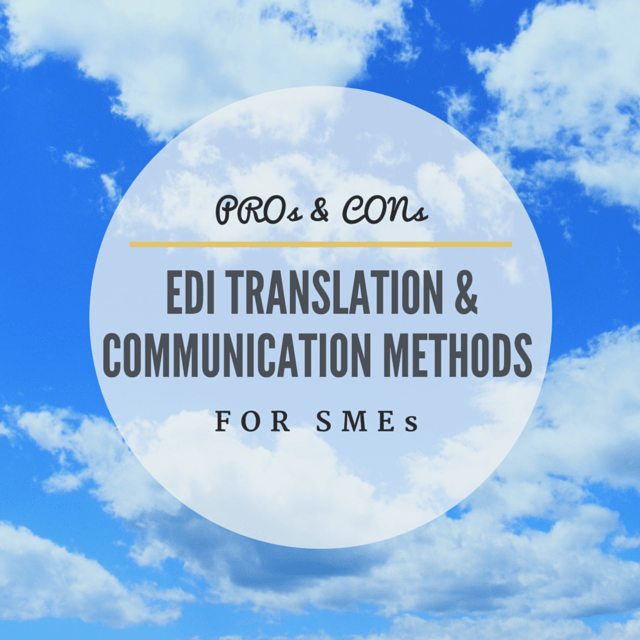 (Last Updated On: December 13, 2022)
It's difficult for SMEs to find a 'middle ground' solution when it comes to EDI translation & communication. When looking to get started using EDI, there are currently three options:
– buy an EDI translator, targeted to developers
– go with a large EDI Vendor to outsource your EDI communication
– do it all from scratch, in-house
Buy EDI Translation Tools for Developers
You can easily find EDI translation and processing tools that can help you with your EDI requirements. These tools are primarily used by developers, as it requires knowledgeable resources in-house and ongoing support within the company to preserve EDI capabilities. Your in-house team of developers will have to develop and maintain maps and requirements for each Trading Partner connection. These tools are not meant to be used by just any businessperson.
PRO: These translators are relatively inexpensive and often consist simply of paying a one-time fee.
CON: Unfortunately, as much as these tools are affordable, it also requires a lot of work for the in-house IT team (time & effort). On top of this, many small businesses do not even have their own IT team in-house, which means they won't be able to complete the EDI requirements and mapping to get started.
Outsource EDI with Prominent EDI Vendors
On the other hand, if you're looking to outsource EDI, many companies tend to stick with well-known vendors. Large vendors help you connect to the retail industry's largest network, collaborate with Trading Partners and integrate with well-known management systems.
PRO: Large EDI Vendors are reputable and offer a large network of Partners.
CON: Expensive!!! Monthly costs can get quite high and typically, their Support platform can get backed up and getting a response back can take months.
Homegrown EDI Software Integration
Many companies still believe that it is necessary to develop their own EDI translation software to integrate within their management system. This requires an in-house IT and EDI team.
PRO: A homegrown solution will be an exact fit for a company; they can customize it to their exact needs.
CON: In this day and age, there is no need to build solutions from scratch. SaaS Solutions have made the lives of IT professionals a lot easier. Developing a homegrown software takes a lot of time and effort and an in-house IT team, which of course eventually becomes a very expensive and time-consuming project.
Unfortunately, these options are not always a good fit for SMEs. Sometimes, even if you have your own in-house IT team, they may not have the knowledge, expertise or even the time to handle EDI mapping and transactions. You need to find an EDI Provider, that can:
handle all EDI mapping, partner configurations, translation processing, document standards maintenance;
communicate directly with your Trading Partners at an affordable monthly service fee;
offer quick response times for support.
This is where EDI2XML comes in – our team realized that a solution and service like 'EDI2XML as a Service' was missing in the EDI marketplace. We keep costs low and handle all EDI requirements for our customers and make sure our support team is available.
https://www.namtek.ca/wp-content/uploads/2013/03/PROs-CONs.png
640
640
Tatyana Vandich
http://namtek.ca/wp-content/uploads/2022/10/LOGO-NAMTEK-Home_page.png
Tatyana Vandich
2015-10-22 09:50:19
2022-12-13 13:55:01
Finding the Middle Ground with EDI Software & Services