B2B Transactions & EDI Communication

(Last Updated On: August 14, 2023)
Businesses are constantly exchanging documents like invoices, purchase orders, advance ship notices, acknowledgements, etc. Many small and mid-size companies tend to still exchange these important documents via email, fax and even mail. Unfortunately, these methods take more effort and time to get to the business partner – which means that orders will be processed later and payments will take longer.
In today's business world, everything is so fast-paced and competition is fierce. Customers and business partners demand the very best, in the shortest amount of time. It can get tricky for small businesses that may not be well equipped to compete with these larger players and provide the best service for their customers and business partners as everything is still done manually. This is where EDI communication comes in
Back in the 70s, a version of EDI began to emerge. Many of the large transportation companies at that time found that exchanging documents with their business partners required too much paperwork and manual processing. All of this was too time-consuming and in the end kept delaying shipments. This is when the idea of developing standard formats to exchange business information began to take place.
Today, Electronic Data Interchange (EDI) is known to be a method to exchange business documents electronically between partners. When it comes to large retailers like Wal-Mart, businesses have no choice but to implement EDI in order to do business. There's a reason these big players love using EDI and require their business partners to use it as well – it works. It is widely known to improve cash flow, document accuracy and partner relationships as well as accelerate the movement of goods to customers. For more EDI benefits, read our blog on "Benefits of EDI Communication".
B2B transactions are now easily and quickly done without the need of manual intervention or tons of paperwork. Here's an example how B2B transactions work with the help of the EDI2XML Team:
For incoming documents:
EDI2XML connects to the trading partner's mailbox to retrieve any incoming files
These documents are converted into XML format, to be easily integrated into your management system
These recently converted XML files are then dropped onto your FTP site to be processed
For outgoing documents:
EDI2XML connects to your FTP site
Collect your outgoing documents such as Invoice or ASN in XML format
EDI2XML turns these XML files into EDI format
Connect with the destination partner's mailbox to drop off the newly converted EDI document

Easy, quick, automatic, standardized – this is what EDI is all about. B2B transactions have never been easier, faster and affordable when you deal with the right EDI Provider and solution – EDI2XML.
Read "EDI Communication Simplified: EDI as a Service" for more information or check out our website www.edi2xml.com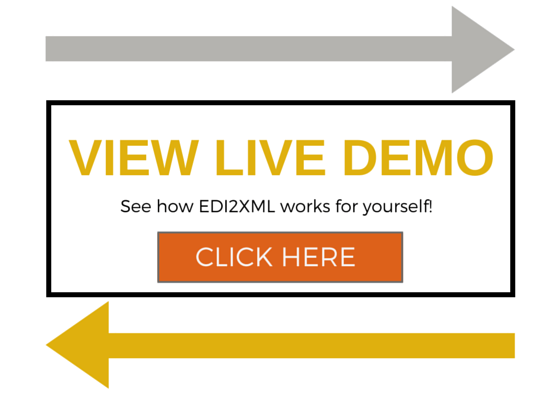 https://www.namtek.ca/wp-content/uploads/2016/11/Screen-Shot-2015-06-30-at-11.47.09-AM.png
127
498
Tatyana Vandich
http://namtek.ca/wp-content/uploads/2022/10/LOGO-NAMTEK-Home_page.png
Tatyana Vandich
2015-06-30 11:50:13
2023-08-14 14:54:12
B2B Transactions & EDI Communication