This post was updated to reflect current trends and information
In the current modern times, the success of any business (small, medium or large) is directly related to the capabilities of its IT infrastructure.
The need for information technology is always growing within any business. This need often overloads the physical IT infrastructure of any company, and the IT team becomes very stretched. Using Private Cloud Hosting provider, instead of on-premises physical infrastructure, gives a business several significant advantages. Following are some of the major advantages:
1 – Private Cloud: Reduced starting costs
The costs of the purchase of equipment, its installation and continuous support not only greatly affect the budget of any enterprise, but often becomes a showstopper in the development of IT infrastructure, and therefore the development of the whole company. Outsourcing to a private cloud hosting provider, companies will have the ability to host their software solutions in the Cloud, saving them on expensive hardware costs, and most important, the recurring management and continuous upgrade, support and starting cost.
2 – Increase in flexibility and speed of implementation of IT solutions
Adopting a Private Cloud and Managed Cloud Service provider, companies can quickly adapt their IT infrastructure to their current needs to fit their own business.
This will add flexibility and efficiency to a company's IT solutions, and save a lot of money, since it will no longer need to reserve unnecessary equipment and human resources not needed.
The flexibility of a Private Cloud will allow a company to rapidly adjust it to its more important projects, and not abandon them, because of the cost of purchase of new equipment or the labor cost for implementation, add to it the long-term maintenance. Accelerating the implementation of new IT solutions increases the efficiency of any business.
3 – Purchase and support of equipment – this is no more a company's headache
Using a private cloud infrastructure, a company will save a tremendous amount on hiring the highly qualified and expensive employees who were previously engaged in the purchase of equipment, its continuous support, and ensuring network accessibility. Now companies will be able to concentrate on more important strategic tasks.
By delegating responsibility for the operability of IT equipment to a Managed Cloud Provider, companies get the opportunity to concentrate on their core business and increase their effectiveness.
Managed Cloud Provider
Namtek Consulting Services is the right choice if a company is looking for reliability, security, competitiveness and a personalized approach. Our long-term proven expertise in the market of IT systems and infrastructure, allows us to implement almost any cloud infrastructure project. Our platform is a virtualized platform running on sophisticated SANs and hypervisors. We use brand new state-of-the-art equipment and hardware and host it in a couple of Tier II secured data centers in Montreal (Canada).
Want to try launching your first cloud project? Contact us and our technical consultants will assist you in recommending the best cost-effective options for your business.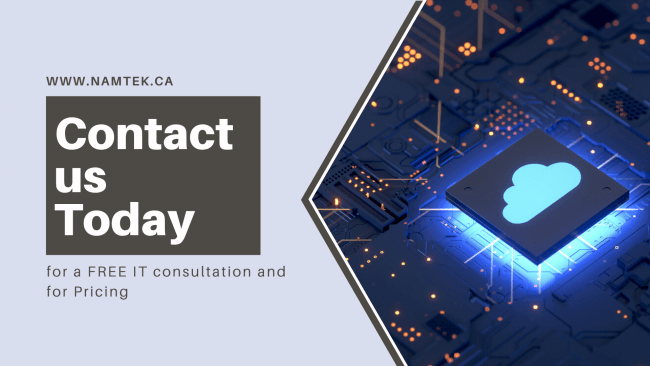 https://www.namtek.ca/wp-content/uploads/2019/12/iStock-917964386-e1576775152645.jpg
291
400
Tatyana Vandich
http://namtek.ca/wp-content/uploads/2022/10/LOGO-NAMTEK-Home_page.png
Tatyana Vandich
2020-03-06 18:00:04
2023-07-14 18:19:40
Why is it profitable to use Private Cloud Hosting & Managed Cloud Services?