Business Continuity: How to Avoid Downtime and Data Loss
How can businesses restore their backup data without incurring downtime and loss? Let's quickly go over a brief description of a Business Continuity.
What is Business Continuity?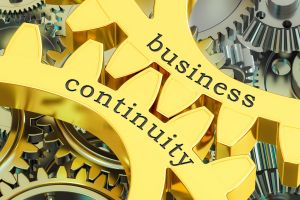 A Business Continuity solution is the combination of the latest backup technology and advanced processes to will ensure the business continues as usual in case a disaster strikes. It comprises of a BDR hardware device, could be a really small depending on what's needed. It can extract and backup complete computer systems, both on a virtual and a physical machine, and can store it on both on the equipment itself and in cloud storage.
The company will benefit from double security. If something happened to the real hardware device, the data could be quickly restored from the cloud.
The goal of business continuity is to reduce downtime and reduce recovery time so that business processes do not interrupt or stop.
The top causes of downtime
Let's look at some common causes of downtime and the costs associated with this business interruption:
Human error – accidental deletion/change to data continues to be a key driver for data loss, impacting productivity specially if workers must spend time repeating previous work.
Ransomware attacks, malware, data corruption – data can be lost or damaged due to malicious cyber-attacks, or through hardware/software faults.
Hardware failure – despite improving hardware reliability, laptops still last on average just 3 years, making data loss due to sudden hardware failure a reality.
Hardware theft or loss – as the workforce becomes more mobile, it is more likely devices such as laptops are lost or stolen.
Environmental events – we hear more and more about natural disasters and the impact they have on businesses. Whether it is fire, water damage, or a tornado, you need to put safeguards in place to protect clients' business data.
It's important to put your business' security first, even if you think the chances of a disaster striking your company are unlikely, you never know what can happen. Eliminate data loss and downtime costs with a Business Continuity solution like QBR and get that peace of mind you always wanted.
Having a simple, secure, automated way to protect and recover business data can reduce the risk of data loss.
How to choose a Business Continuity Solution
Finding the right Business Continuity solution for your company isn't always easy. However, if done correctly, your critical company data will be secure 24/7 and easily restorable in case of a disaster. Even if unexpected disasters, such as fires, floods, or simply equipment failures, are unlikely, your business should always be prepared for them.
Here are 5 key points to look for when selecting a Business Continuity solution:
1.      It should backup and restore files easily, with a simple and quick implementation process and a flexible upgrade policy.
2.      The solution should provide multiple recovery points, in order to go back in time and have the option to restore from any given backup. On top of this, these recovery points should be compressed and stored on its own hardware storage device.
3.      It should be able to export the backups as HyperV or Vmware files for deployment on any virtual environment.
4.      It should offer a quick and efficient "bare metal" restore; which is the process of restoring a complete "virtual machine" sitting on the local device into a physical machine.
5.      It should be a hybrid solution, that is based on virtualization, both on the local device and in the "cloud" (hybrid solution); this entails a backup done of a whole physical or virtual machine into one file and sent to the "cloud" after compression and encryption.
When selecting your Business Continuity solution, it's also important to look at the specifications of the technology as well as the vendor. When you find a business continuity solution that has all of these key points and specifications, like the QBR solution, your business will be able to meet or exceed your Recovery Time Objective (RTO).
Do not risk your business! Choose the safest and right insurance to back up and restore your data with QBR.
Contact us today!

https://www.namtek.ca/wp-content/uploads/2019/10/iStock-692993020.jpg
836
1254
Tatyana Vandich
http://namtek.ca/wp-content/uploads/2022/10/LOGO-NAMTEK-Home_page.png
Tatyana Vandich
2019-10-28 19:45:41
2022-12-13 13:54:43
Business Continuity: How to Avoid Downtime and Data Loss