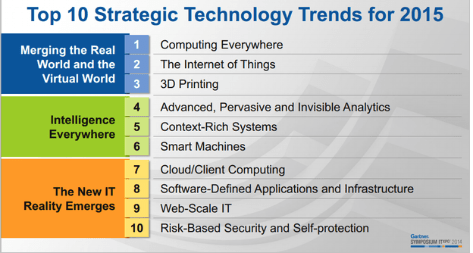 (Last Updated On: December 13, 2022)
2015 is fast approaching.  As we get nearer to the New Year, new reports on the latest tech trends are being released by top IT analysts. One such report, released by Gartner, the leading IT research and advisory firm, listed the following trends:
(To view ZDNet's article on Gartner's Trends, click here)
Gartner's Tech Trends for 2015
Computing Everywhere
Computing everywhere refers to mobility and multiple screens or sensors. Many companies will begin to focus on user experience.
The Internet of Things
The Internet of Things or IoT is the interconnection of computing devices within the Internet infrastructure. Companies will need the right infrastructure to harness the data and support Big Data analytics. To learn more about IoT, read a great article on Forbes.
According to Gartner analysts, 3D Printing will change the future. Previously, this kind of printing was used only for prototyping by engineers. Now, it has entered the business world where manufacturers have slowly begun using inexpensive 3D printers to create any 3-dimensional object using materials such as plastic, metal or carbon fiber. Gartner predicts that this "technology will reach mainstream adoption in both enterprise and consumer markets within ten years, or even sooner in specific markets such as manufacturing and medicine". To read more about it, click here.
Advanced, Pervasive and Invisible Analytics
Context-Rich Systems
Smart Machines
Trends #4,5 and 6 can be bunched together. All three claim that machines will be able to replace many jobs, as they will be able to note context and become "more human".
Cloud/Client Computing
Software-Defined Applications and Infrastructure
Web-Scale IT
Risk-Based Security and Self-protection
These last 4 trends are basically stating that they predict all applications will be in the cloud, a trend that has been around for a few years now and doesn't seem to be leaving any time soon.
Of course, having the right up-to-date systems will help transform your business and get ready for future trends and technologies.
Is YOUR business ready for 2015?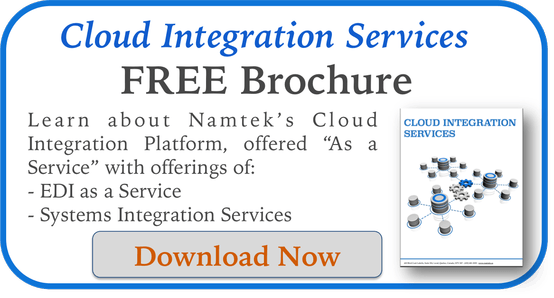 https://www.namtek.ca/wp-content/uploads/2016/11/Screen-Shot-2016-11-02-at-3.17.37-PM.png
253
473
Tatyana Vandich
http://namtek.ca/wp-content/uploads/2022/10/LOGO-NAMTEK-Home_page.png
Tatyana Vandich
2014-11-25 16:04:55
2022-12-13 13:55:24
Tech Trends of 2015