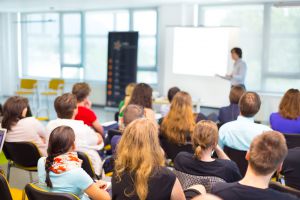 For many business owners or managers, making the decision to implement a new software system is a difficult one to make. Oftentimes, the changes and risks that come with a software implementation can discourage those business managers who are looking to streamline their company's processes and improve overall efficiency with a new system. There's a ton of information out there on the advantages of using an efficient, up-to-date ERP system but not that much on how to properly handle an implementation phase. No Software Provider wants to scare their clients right from the get-go but this is definitely the wrong approach. By not educating the new software users and providing all the necessary information right from the start, all parties will suffer during the implementation phase.
Therefore, to begin with, it's important to know the possible risks involved in such a project. This can include failure, user resistance, employee stress and anxiety, improper use of the system, misunderstandings, problems, doubts, fear of change etc. In order to ensure that these risks are eliminated or reduced, end user training is definitely required. These trainings will provide employees (or end users) with the right amount of attention and skills needed to help them acclimate to new processes (that have been changed by the new system implementation) as well as to the new system itself.
You can begin by creating a training plan then scheduling it accordingly, by department or simply by department heads and managers. Trainings can be given either in small groups or on a one-on-one basis. Documentation of course will also be provided to ensure that employees can easily access a "how-to" guide on using the system.
Once these trainings are underway, its advantages will be quite evident since trainings can alleviate stress, combat fears, bring acceptance to the system, reduce system errors and misunderstandings. Bottom line, when software users are properly educated on new functionality and processes, it's a WIN-WIN for everyone! The trainings will teach end users the necessary skills needed to prevent problems and to use the system in the most efficient way possible. Individual performance will improve thus increasing productivity. Business managers will be happy as well as Software Providers.
As a Software Provider, our team truly understands just how important it is to pay attention to the USERS (or employees) and their needs during an implementation phase, rather than on solely the system itself. We realize how difficult this time may be for some people, especially if they have been used to working with the same processes and systems for years and have developed habits and routines in their workplace. Introducing a new software management system, with new processes, can disrupt their work life and this most definitely can cause stress and fear.
As a complete ERP software implementation can typically take about 12 months, it's important that during this time, everyone is working together, as a team, for a successful and smooth phase. No surprises or headaches!
https://www.namtek.ca/wp-content/uploads/2017/04/user-training-softwareERP.jpg
1414
2121
Tatyana Vandich
http://namtek.ca/wp-content/uploads/2022/10/LOGO-NAMTEK-Home_page.png
Tatyana Vandich
2017-04-27 01:02:41
2022-12-13 13:54:49
User Training: The Key To Unlocking The Benefits of A Software System