Business Continuity
After consulting with many business owners, I realized that when software experts mention the words "business disaster" or "disaster recovery", many people are thinking of natural phenomena, or weather events, such as floods, hurricanes, fires, ice storms, earthquakes, tsunamis, windstorms, and so on. Of course these disasters can affect a business, and they can have devastating repercussions, such as extended downtime, property damage, even loss of revenue and more. The probability, however, of such meteorological events is much lower than that of man-made technological events.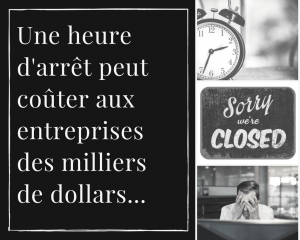 Technological and human disasters, including equipment failures, software malfunctions, user errors, security breaches, etc., can also have devastating effects on a company's operations, resulting in downtime, lost data, lost productivity, lost expenses and more. One hour of downtime can cost companies thousands of dollars for small businesses and hundreds of thousands of dollars for large companies! It is essential to know your maximum downtime (RTO Recovery Time Objective) for your company. How long can you stop and survive? If your RTO is in seconds or minutes, it's best to make sure you have a business continuity solution with off-site data storage.
Many companies, without a Business Continuity and a disaster recovery plan, many companies fail to recover from disasters. So, before you think to yourself, "we have great weather here or we almost never have power outages, why should I pay for a Business Continuity ?" – remember that your business is more likely to fall victim to ransomware, have an employee accidentally delete an important file or deal with a failing server. No matter how sudden and disastrous the event, you want to be protected. Ask yourself: is my company's data worth the risk? You may have made it through the last 10 years without a disaster, but can you really guarantee that the next 10 will also be crisis-free? Your employees are human, they can make mistakes.
Ransomware attackers don't care who you are or how big your company is, they attack everyone. We can never be too sure when a server will fail. There are no certainties, which is why it's important to have a disaster recovery plan and a Business Continuity Service to guarantee TOTAL data protection, so you can get up and running quickly and easily. It's not worth risking your company's reputation and operations.
In our previous blog , we mentioned the term "data assurance". This is how our customers see their Business Continuity Solution and service. They see it as an insurance policy in place to protect their company's most important asset – their data! Companies are increasingly willing to pay a monthly fee for Business Continuity Services to ensure that their data is 100% protected and easily recoverable.
There's no point in simply backing up your data only to find that after a disaster it takes DAYS to recover everything! Now that companies are using comprehensive management systems rather than keeping important information on paper, they are realizing the need for such a backup solution. They are also relying less on those outdated and obsolete tapes and drives to back up their data, and more on hybrid cloud backup.
Lately, we've been hearing a lot about "Ransomware". This type of security breach is currently a big problem for companies, and even individuals, all over the world. The probability of a company suffering a ransomware attack is very high.
In 2016, the US and Canada jointly issued an alert, warning businesses and individuals of "the recent increase in extortion attacks that infect computers with viruses known as ransomware." This virus not only encrypts a company's data, but also demands payment to unlock it (Reuters, 2016).
The alert informed people that some of the consequences of ransomware attacks include "loss of information, disruption of current operations, expenses to restore access to company systems and damage to corporate reputation". Governments have also discouraged victims from paying the pirates, since paying the ransom does not guarantee the release of their files. All it guarantees is that the pirate receives the money and, in some cases, their bank details. (Reuters, 2016)
Ransomware continues to dominate in 2017, with small and larger companies still paying millions of dollars to unlock their encrypted.
There are many ways in which a company can fall victim to a cyber attack. The most common are when computer users click on the wrong link or download an encrypted attachment. Other adulterations include spinning, baiting and heeling.
It's important to understand why total data protection is essential in today's business world. Businesses are now run and managed with software systems, so it's important to ensure that there are no service interruptions in the event of the unexpected. Companies need to protect themselves not only against natural disasters, but also against man-made technological events, which are far more likely to occur.
Reduce your risks with a Business Continuity solution and a solid disaster recovery plan. Contact us today!
https://www.namtek.ca/wp-content/uploads/2017/11/Une-heure-darrêt-peut-coûter-aux-entreprises-des-milliers-de-dollars.png
756
945
Tatyana Vandich
http://namtek.ca/wp-content/uploads/2022/10/LOGO-NAMTEK-Home_page.png
Tatyana Vandich
2017-11-08 17:00:54
2023-08-10 17:50:18
Business Continuity Services for total data protection